You are faced with a claimant alleging they have a history of spontaneously dropping items due to an arm injury. Social media evidence then shows images of the same claimant holding his child over a cliff edge whilst still suffering from these debilitating problems. Neglectful parent or dishonest claimant?
Fortunately for the child in a recent success for Clyde & Co, there was no real prospect of being dropped, as the litany of alleged symptoms advanced by their father was nothing more than a fiction.
The Claimant was injured whilst at work when his right hand/lower arm was crushed by a large pre-fabricated concrete bulkhead being used to construct a building. As a result, he claimed a permanent injury to his arm, residual pain and disability, lost earnings, care and future losses to include care, disadvantage in the labour market and surgery. The claim was valued at around £100,000, and liability was resolved between three defendants, one of which was our client.
The Claimant alleged ongoing issues and disability. A lengthy list of symptoms was reported. An inability to do DIY, write properly, cut bread, cut vegetables, the need for special cutlery, intolerance of cold in his arm, and spontaneous dropping of objects were all reported.
However, scans taken of the affected area were clear and his medical experts could not provide an organic reason for his ongoing issues. Confusing matters was the fact that our jointly instructed experts reported that all reported symptoms were accident-related and in fact that the Claimant needed surgery.
Undeterred, we undertook social media searches against the Claimant. The evidence showed the Claimant to be very active, advertising handyman services, skiing, going on long bike rides, and of course, the incident with his child on the cliff as pictured below.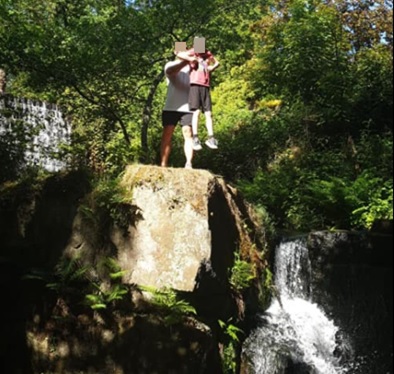 We deployed Part 18 Questions. The Claimant offered adept answers to our questions, effectively stating it was a 'good day, bad day' situation, seeking to explain away the inconsistencies. We considered that these inconsistencies could be challenged further. Holding his child over a cliff? This is not something anyone would do if they were dropping items such as forks, pans and paint brushes. Advertising himself to do DIY jobs? Why advertise this when his case was essentially that he couldn't do it? Go skiing if he had cold intolerance? You would surely go on holiday to warmer climes?
We put the social media evidence to our medical expert and he altered his opinion. He essentially stated that whilst the Claimant had an injury, he was not disabled to the extent he said and surgery was not required.
The evidence we uncovered was, to our eyes, damning. Despite the genuine injury, a finding of Section 57 fundamental dishonesty could still be obtained. Our co-defendants did not agree.
Nonetheless, we made an Application to amend the Defence to plead fraud. The Claimant made a low offer of £30,000.00. It should be noted that he had previously flat out rejected an earlier offer of £20,000.00 put by the Defendants and his case was pleaded up to £100,000.00.
We were alive to the view that the offer should potentially be accepted on the basis that the medical expert had still diagnosed an injury and the Claimant would tailor his case to the social media evidence.
Ultimately our view was that we would almost certainly not wish to settle the claim and wanted to maintain a hard line. The claim was eventually compromised for £24,000.00 between the other two Defendants with a Drop Hands Discontinuance against our client.
Our Project Martello approach was validated. Even if Claimants do not clearly deny being able to do certain tasks, it is not a bar to a successful defence. Psychologically, this appeared to be a Claimant who was managing fine with his injury whilst claiming he could not.
By slowly dismantling the Claimant's case via Part 18s, Intel evidence and Part 35s, we have secured a saving on a case that could very easily have been paid, and was indeed paid for by our co-defendants.