Real teeth or all bark and no bite? - Consultation on the Office for Environmental Protection's draft enforcement policy
24 February 2022 24 February 2022

UK & Europe
The Office for Environmental Protection ("OEP") has issued its draft enforcement policy for consultation which gives us the first indication of its enforcement muscles and how it intends to flex them.
Whilst the OEP is designed to hold public bodies to account where there are serious failings in complying with environmental law, companies will no doubt be keen to understand whether the OEP's draft enforcement policy provides a potential route of challenge for business regarding the conduct of the EA and local authorities.
The window for responding to the consultation closes on 22 March 2022.
What are the OEP's powers?
What is clear from the OEP's draft enforcement policy is that it has a range of investigatory and enforcement powers which include:
Preliminary information gathering when it becomes aware of a public authority potentially failing to comply with environmental law. The OEP expects public authorities to cooperate with its requests (and there is a legal duty to co-operate);

The power to carry out investigations concerning a public authority's alleged or suspected failures to comply with environmental law. The OEP's draft policy confirms it can "commence investigations because of someone complaining to us or on our own initiative". However, it will only do so where it has information that "indicates a public authority may have failed to comply with environmental law and, if it has, the failure would be serious";

The OEP can serve an information notice requiring public authorities to provide certain information if it has reasonable grounds for suspecting the authority has failed to comply with environmental law and that failure is serious. The OEP expects it would normally only serve information notices in the context of an investigation;

Following all investigations (save those which proceed to court), the OEP must prepare a report. The OEP can also make recommendations, both specifically for the public authority concerned and also more generally;

In appropriate cases, where the OEP has previously issued an information notice, it may also issue a decision notice. That notice is a formal document which sets out the OEP's conclusions on a public authority's failure to comply with environmental law, why the OEP thinks that failure is serious, and the steps it considers the public authority should take in relation to that failure;

The OEP expects public authorities to rectify the non-compliance promptly when brought to its attention. However, the OEP recognises that court action may sometimes be required. In England, it may commence proceedings in the High Court via an environmental review enabling the court to determine the matter in law;

In addition to its bespoke enforcement functions, the OEP has the following powers to take more conventional enforcement action such as:

it may apply for judicial review in appropriate cases but it can only do this where an "urgency condition" is met;

it may apply to intervene in judicial reviews brought by others that relate to an alleged failure by a public authority. Moreover, the OEP will consider any requests it may receive from a party to a judicial review to apply to intervene in their proceedings.
The below chart sets out the OEP's decision making framework which involves three steps. This will be applied to determine whether and how the OEP exercises its enforcement functions.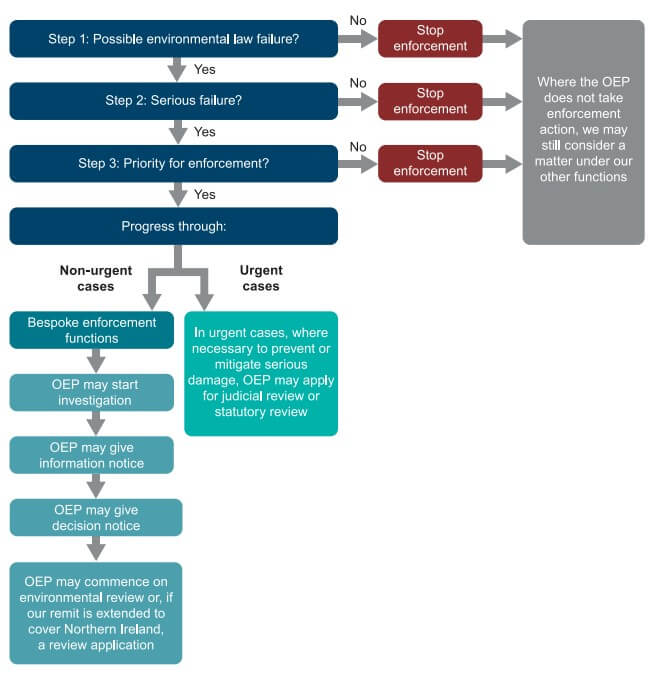 What does the OEP class as a serious failing?
In deciding whether any failure is serious, the OEP will take the following into account:
Whether the public authority's conduct raises any points of law of general public importance;
The frequency of the conduct over time;
The behaviour of the public authority;
The harm or potential harm to the natural environment or to human health associated with the failure;
Any other relevant factors.
Of note, the draft policy states that the OEP's enforcement function should be complementary to other relevant statutory regimes and to the work of others charged with overseeing public authorities in relation to environmental matters. Such regimes include public authorities' complaints procedures, appeal mechanisms and legal challenges as well the functions of the relevant ombudsman service. Accordingly, to avoid conflict and duplication, the OEP will take into account the existence of such regimes and will not normally commence enforcement action where it judges another regime or authority is better suited to hold a public authority to account.
What potential opportunities does this present for businesses?
Given the OEP's stated intention to avoid overlap with existing regimes, opportunities for businesses to challenge the conduct of public authorities to the OEP seem limited at first blush.
However, where a public authority's conduct/intervention with another business is causing harm to the environment or human health, or capable of causing such harm, and this is putting other businesses at a commercial disadvantage, it might be worth reporting this to the OEP to see if it has any appetite to deploy its investigatory and enforcement powers.
End