Clyde & Co Art Award Melbourne 2017
The Clyde & Co Art Award for up-and-coming artist has expanded into Victoria.
Clyde & Co staff, clients and exhibition artists attended the inaugural presentation of the Clyde & Co Art Award – Melbourne on 27 April 2017 at the firm's offices.
Clyde & Co Art Award - Australia spokesperson, Oscar Shub, said the expansion of the award into a new jurisdiction was evidence of the firm's commitment to the arts. "We are aiming to assist emerging artists wherever possible and Melbourne having some excellent art schools, should benefit from a project such as this," he says.
Winner of the award was artist, Andrea Sinclair, for her work titled, Drifter – an oil and acrylic painting inspired by Super 8 home movies from the 50s and 60s (pictured above).
Andrea recently graduated from RMIT University in Melbourne with a Bachelor of Art/Fine Art, with Distinction, and is currently studying a Master of Fine Art degree at RMIT, which she plans to complete in 2018.
Andrea began painting in high school and even went to Art College when she was younger, but only began painting again recently after taking a couple of painting classes in private studios. "In 2014 I decided that it was time to complete what I had begun, so I started at RMIT," she adds.
The judging panel of the Art Award described Andrea's painting as a "beautifully crafted" and poignant nod to the past and the unseen or unnoticed: "It is lovely that a painting can capture those moments, as well as the irony of the reference to a technology that is now regarded as redundant, but at the time was regarded as revolutionary.  Painting has, however, survived."
Andrea says that while it's difficult for any artist, but especially emerging artists, to get their work seen by a broader audience, events and initiatives such as the Clyde & Co Art Award have a far-reaching effect and they buoy artists in their own practices. "When students are finishing their Bachelor of Fine Art, they are really at the beginning of their working life, ready to launch forward into a professional career. However, it is well known that without support for the arts and validation of any individual's work, many artists find it difficult to maintain momentum in this area and may never fully recognise their potential," she says.
"With art prizes and corporate support available, the value that is within graduate work is noticed and appreciated. It is so important to encourage creative people to stay working in this field. Every system of support is an amazing advantage to the artist, but also to the investors and supporters as the artist grows and makes a name in the art world. It is mutually beneficial."
The Clyde & Co Art Award also includes a Staff Choice award which went to Lucy McMillan for her piece Serpula, a digital photo print (pictured below). 
In addition to having a space to exhibit, artists in the Clyde & Co Art Award are given funds for their artworks being on display and pro bono legal advice; while the winner of the Art Award and Staff Choice Award are also given monetary prizes. 
All artworks are available for purchase via a silent auction throughout the year. More details can be found at http://artawards.clydeco.com/melbourne/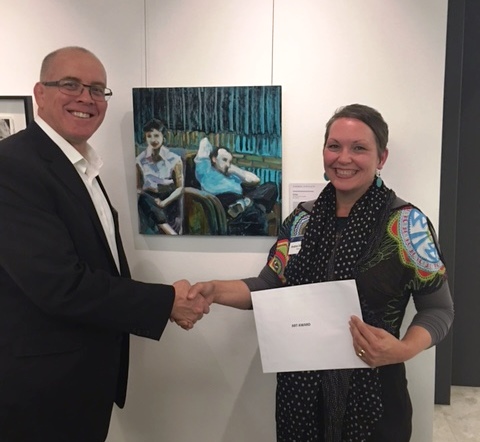 Partner Maurice Thompson with Art Award winner Andrea Sinclair.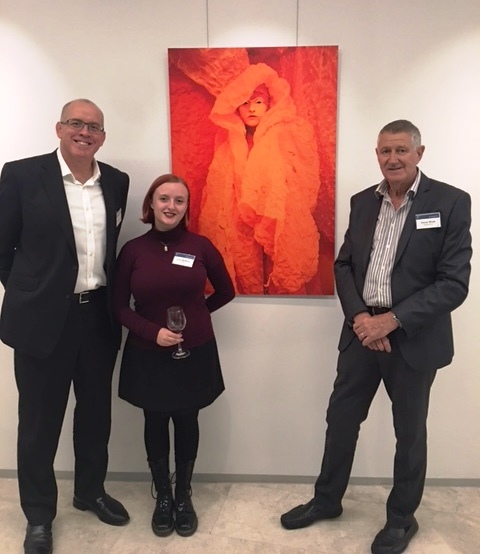 Maurice, Lucy McCmillan and Oscar Schub.