Clyde & Co boosts APAC aviation practice with partner hire of Terence Liew in Singapore
Press Releases 26 October 2023 26 October 2023

Asia Pacific
Hire boosts firm's integrated global offering as market rebounds post-Covid. Read our press release in five languages below.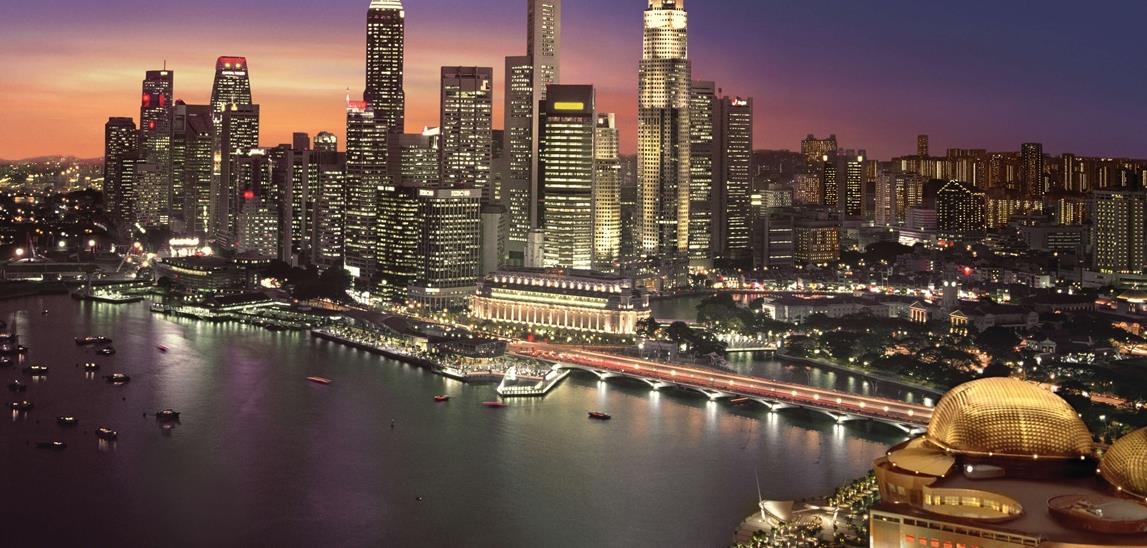 Singapore, 26 Oct 2023: Global law firm Clyde & Co has today announced the partner hire of Terence Liew in Singapore. Terence is a dispute resolution and aviation partner covering aviation insurance, regulatory, commercial and uninsured aviation work in Asia.
He has many years of experience acting for a diverse portfolio of aviation and aerospace clients from across the region. Beyond contentious work, Terence works on the non-contentious side of the aviation sector, including regulatory and commercial work. He joins from HFW.
Asia – the world's fastest growing aviation market
China, India and emerging economies such as Vietnam and Indonesia will be the principal drivers of growth in Asia-Pacific, which is home to 55% of the world's population, with air freight set to more than double in the region by 2040 and predicted 5.3% passenger traffic growth per year*.
Terence will play a key role in the expansion of Clyde & Co's aviation capabilities at a time of increased client demand and significant changes and growth in the market following the pandemic.
Kevin Sutherland, Partner, Chair of the Global Aviation Practice Group, San Francisco, comments: "The aviation and aerospace market will continue to grow globally, particularly in the Asia-Pacific region. Terence is a key addition to our team, who will further boost our regional aviation capabilities and our globally integrated offering."
Multilingual advice and local law capabilities; one global practice group
Terence is part of Clyde & Co's network of aviation lawyers, which operates through a single global practice group, and joins the firm's Global Aviation Executive Group. Terence is recommended by legal directories, including Chambers and Partners, The Legal 500, Euromoney Experts Guide, Doyles Guide and Singapore Business Review. He is qualified in England & Wales, the Republic of Ireland, Singapore and Malaysia, and multilingual in English, Mandarin, Cantonese, Bahasa Malay and Bahasa Indonesia. Terence is also a Notary Public and a Commissioner for Oaths.
This key hire ensures that Clyde & Co's regional aviation practice continues to offer a broad service to the industry, including on- and offshore services to clients, leveraging Terence's multiple qualifications as well as the firm's Clasis and Westlink joint law ventures in Singapore and China, respectively.
Terence Liew comments: "I am delighted to be joining such a large, dedicated global team at a time where both the aviation industry as well as the sector's legal advisors have seen drastic change. There are tremendous opportunities at this juncture to assist and support clients through this period of growth."
Simon McConnell, Partner, Chair of the APAC Board, Hong Kong, adds: "APAC is a key region for the aviation industry and the firm's practice, and our aim is to be the leading player in aviation – reflective of our global sector approach with aviation being a key pillar."
*Airbus Global Market Forecast data
For further information please contact:
Andrea de Palatis
Senior Manager, Communications and Marketing (APAC)
0061 415 365 990
andrea.depalatis@clydeco.com
About Clyde & Co
Clyde & Co is a leading global law firm, helping organisations navigate risk and maximise opportunity in the sectors that underpin global trade and commercial activity, namely: insurance, aviation, marine, construction, energy, trade and natural resources. Globally integrated, the firm has 490 partners, 2400 lawyers, 3200 legal professionals and 5500 people overall in nearly 70 offices and associated offices worldwide. For more information please visit www.clydeco.com.
---
其禮律師事務所迎來新加坡合夥人廖德明(Terence Liew)助推動亞太地區航空業務
伴隨著市場在新冠疫情后的復甦,該聘任決定進一步加強了本所全球綜合服務範圍
新加坡,2023年10月26日:全球律師事務所其禮 (Clyde & Co) 於今日欣然宣布,我們正式迎來合夥人廖德明加入本所新加坡辦公室。 廖律師專注於爭議解決和航空領域,聚焦亞洲地區的監管、商業, 航空保險和非保險類業務。
他擁有多年為亞洲地區眾多航空及航天客戶提供服務的經驗。 除爭議類事宜外,廖律師還從事航空領域的非訴類業務,包括監管和商業事務。 在加入其禮之前,廖律師供職於夏禮文律師事務所。
亞洲——全球範圍內業務量增長最快的航空市場
中國、印度以及例如越南和印尼等新興經濟體將成為亞太地區業務增長的主要推動力輸出國,該區域人口佔世界人口的55%,預計到2040年,此地區的航空貨運量將增加一倍以上,且每年客運量預期增長5.3%*。
在客戶需求增加以及疫情後市場發生重大變化和增長之際,廖律師的加入將在其禮航空業務能力的擴展中發揮關鍵作用。廖律師將成為其禮航空業務的強將。
其禮舊金山辦公室合夥人兼全球航空業務團隊主席Kevin Sutherland表示:「全球航空航太市場業務需求將持續增長,特別是在亞太地區。 廖律師是我們團隊中至關重要的一員,他將進一步助力於我們的區域航空能力和全球一體化服務」。
全球一體化團隊提供多語種和各地本土法律服務
廖律師是其禮航空律師網路中的一員,該網路融合全球統一化業務團隊的運作,他同時也會加入其禮全球航空業務決策小組。 廖律師憑藉傑出的能力受到知名法律名錄《錢伯斯》、《法律500強》、《歐洲貨幣專家指南》、《Doyle's指南》和《新加坡商業評論》的推薦。他擁有英格蘭和威爾士,愛爾蘭共和國,新加坡以及馬來西亞、的律師執業資格,並精通英語、普通話、粵語、馬來西亞語和印尼語。廖律師同時也被新加坡法律學會(SAL)的參議院任命為公證專員和宣誓官。
憑藉廖律師的多重律師執業資格,以及其禮在新加坡和中國的聯營律師事務所,這一關鍵聘任決定加強了其禮區域航空團隊持續為境內外行業客戶提供廣泛服務的優勢。
廖律師表示:「在航空業經歷了巨大變化之際,我很高興加入這樣一個龐大而專注的全球團隊。 如此關鍵時刻,我們有很多機會可以協助和支援客戶度過這段成長時期」。
香港辦公室合夥人兼亞太區董事會主席馬康利 (Simon McConnell) 補充道:「亞太地區是航空和本所業務領域發展的關鍵地區,我們致力於成為航空業的佼佼者——這恰恰突顯了我們以航空業為關鍵支柱的全球行業方針」。
* 空客全球市場預測數據
---
其礼律师事务所迎来新加坡合伙人廖德明(Terence Liew)助推动亚太地区航空业务
伴随着市场在新冠疫情后的复苏,该聘任决定进一步加强了本所全球综合服务范围
新加坡,2023年10月26日:全球律师事务所其礼 (Clyde & Co) 于今日欣然宣布,我们正式迎来合伙人廖德明加入本所新加坡办公室。廖律师专注于争议解决和航空领域,聚焦亚洲地区的监管、商业,航空保险和非保险类业务。
他拥有多年为亚洲地区众多航空及航天客户提供服务的经验。除争议类事宜外,廖律师还从事航空领域的非诉类业务,包括监管和商业事务。在加入其礼之前,廖律师供职于夏礼文律师事务所。
亚洲——全球范围内业务量增长最快的航空市场
中国、印度以及例如越南和印尼等新兴经济体将成为亚太地区业务增长的主要推动力输出国,该区域人口占世界人口的 55%,预计到 2040 年,此地区的航空货运量将增加一倍以上,且每年客运量预期增长5.3%*。
在客户需求增加以及疫情后市场发生重大变化和增长之际,廖律师的加入将在其礼航空业务能力的扩展中发挥关键作用。廖律师将成为其礼航空业务的一名强将。
其礼旧金山办公室合伙人兼全球航空业务团队主席Kevin Sutherland表示:"全球航空航天市场业务需求将持续增长,特别是在亚太地区。廖律师是我们团队中至关重要的一员,他将进一步助力于我们的区域航空能力和全球一体化服务"。
全球一体化团队提供多语种和各地本土法律服务
廖律师是其礼航空律师网络中的一员,该网络融合全球统一化业务团队的运作,他同时也会加入其礼全球航空业务决策小组。廖律师凭借其杰出的能力受到知名法律名录《钱伯斯》,《法律500强》,《欧洲货币专家指南》、《Doyle's指南》和《新加坡商业评论》的推荐。他拥有英格兰和威尔士,爱尔兰共和国,新加坡以及马来西亚的律师执业资格,并精通英语、普通话、粤语、马来西亚语和印度尼西亚语。廖律师同时也被新加坡法律学会(SAL)的参议院任命为公证专员和宣誓官。
凭借廖律师的多重律师执业资格,以及其礼在新加坡和中国的联营律师事务所,这一关键聘任决定加强了其礼区域航空团队持续为境内外行业客户提供广泛服务的优势。
廖律师表示:"在航空业经历了巨大变化之际,我很高兴加入这样一个庞大而专注的全球团队。如此关键时刻,我们有很多机会可以协助和支持客户度过这段成长时期"。
香港办公室合伙人兼亚太区董事会主席马康利 (Simon McConnell) 补充道:"亚太地区是航空和本所业务领域发展的关键地区,我们致力于成为航空业的佼佼者——这恰恰突显了我们以航空业为关键支柱的全球行业方针"。
* 空客全球市场预测数据
---
Clyde & Co menyemarakkan amalan guaman penerbangan dengan pelantikan rakan kongsi Terence Liew di Singapura
Pelantikan menyemarakkan tawaran bersepadu global semasa lantunan semula pasaran selepas Covid
Singapura, 26 Okt 2023: Firma guaman global Clyde & Co hari ini telah mengumumkan pelantikan rakan kongsi Terence Liew di Singapura. Terence merupakan peguam yang mempunyai kepakaran dalam penyelesaian pertikaian dan bidang amalan penerbangan, di mana khidmat guaman beliau merangkumi pelbagai aspek termasuk insurans penerbangan, penyeliaan, komersial dan perkara-perkara tanpa insurans di dalam industri penerbangan di rantau Asia.
Beliau mempunyai pengalaman yang luas mewakili klien-klien merentasi rantau dengan portfolio yang pelbagai dari industri penerbangan dan aeroangkasa. Selain mengendali perkara-perkara yang melibatkan pertikaian, Terence juga menawarkan khidmat guaman atas perkara-perkara yang tidak melibatkan pertikaian di sektor penerbangan, termasuk aspek dari segi penyeliaan dan komersil. Beliau menyertai Clyde & Co dari firma guaman HFW.
Asia - pasaran penerbangan yang paling pesat berkembang
China, India dan negara-negara yang ekonominya sedang pesat membangun seperti Vietnam dan Indonesia, yang menampung 55% penduduk seluruh dunia, akan menjadi pemicu-pemicu pertumbuhan ekonomi di Asia-Pasifik, dengan kadar pengangkutan udara di rantau ini yang dijangka akan meningkat melebihi dua kali ganda pada tahun 2040 dan ini dianggarkan akan mencapai 5.3% pertumbuhan trafik penumpang setiap tahun.*
Terence akan memainkan peranan utama memperkembangkan keupayaan Clyde & Co dalam bidang amalan guaman penerbangan, khususnya pada masa permintaan klien-klien yang semakin bertambah, dan juga kadar perubahan dan pertumbuhan pasaran yang pesat selepas pandemik.
Kevin Sutherland, Rakan Kongsi, Ketua Bidang Amalan Guaman Penerbangan Global, San Francisco, komen, "Pasaran penerbangan dan aeroangkasa akan terus bekembang secara global, terutama sekali di rantau Asia-Pasifik. Terence merupakan rekruit strategik kepada pasukan guaman kami untuk melestarikan kemahiran serantau dan tawaran bersepadu global kami di dalam sektor penerbangan."
Nasihat guaman berbilang Bahasa dan Keupayaan Undang-undang tempatan; Satu Pusat Guaman Global
Terence adalah sebahagian dari rangkaian peguam-peguam penerbangan dari Clyde & Co yang beroperasi menerusi satu pusat guaman global, dan juga seorang ahli kepada Jawatankuasa Penerbangan Eksekutif Global di Clyde & Co. Terence mendapat pengiktirafan dari pelbagai direktori undang-undang, termasuk Chambers and Partners, The Legal 500, Euromoney Experts Guide, Doyles Guide dan Singapore Business Review. Beliau berkelayakan di Malaysia, Singapura, Republik Ireland dan England & Wales dan berkebolehan berbicara pelbagai bahasa, yakni, Inggeris, Mandarin, Kantonis, Bahasa Malaysia dan Bahasa Indonesia. Terence juga dilantik sebagai Notari Awam dan Pesuruhjaya Sumpah.
Pelantikan strategik ini akan memastikan Clyde & Co dapat terus menawarkan pelbagai perkhidmatan kepada industri penerbangan dan aeroangkasa, termasuk perkhidmatan dalam dan luar pesisiran kepada klien-klien, yang akan memperolehi manfaat daripada kemahiran Terence yang dinamik dan turut menerusi usahasama Clyde & Co dengan firma guaman Clasis di Singapore dan Westlink di China.
Ujar Terence, "Saya berbesar hati untuk menyertai pasukan guaman global yang berdedikasi pada masa di mana kedua-dua industri penerbangan dan sektor guaman mengalami perubahan yang drastik, yang kini mempunyai ruang untuk saya memberi khidmat nasihat dan membantu klien-klien melalui jangkamasa perubahan ini."
Simon McConnell, Rakan Kongsi, Ketua Lembaga APAC Hong Kong turut menambah: "APAC adalah rantau yang penting bagi industri penerbangan dan firma guaman, dan matlamat kami untuk menjadi pemain utama di dalam industri ini dicerminkan menerusi strategi global kami di mana industri penerbangan adalah tunggak utama kepada firma kami."
*Airbus Global Market Forecast data
---
Clyde & Co meningkatkan praktik Aviasi di wilayah Asia-Pasifik dengan Terence Liew bergabung di kantor Singapura
Pergabungan ini meningkatkan penawaran terintegrasi firma hukum yang global dengan perkembangan pasar ekonomi pasca-Covid
Singapura, 26 Okt 2023: Firma hukum internasional Clyde & Co hari ini mengumumkan Terence Liew telah bergabung di kantor Singapura. Terence adalah partner dengan keahlian dalam bidang litigasi dan aviasi yang mencakup pekerjaan mengenai asuransi penerbangan, regulasi, komersial, dan penerbangan tanpa asuransi di Asia.
Terence memiliki pengalaman yang beragam dalam mendampingi klien-klien bidang aviasi dan kedirgantaraan. Selain pekerjaan yang bersifat contentious, Terence juga mengerjakan perkerjaan-perkerjaan di dalam sektor aviasi yang non-kontroversial, termasuk pekerjaan-perkerjaan terkait regulasi dan komersial. Terence bergabung Clyde & Co dari firma hukum HFW.
Asia – pasar penerbangan yang berkembang tercepat di dunia
China, India dan negara-negara berkembang seperti Vietnam dan Indonesia akan menjadi pendorong utama pertumbuhan di Asia-Pasifik, dimana 55% populasi dunia terletak di daerah tersebut, dan angkutan udara diperkirakan akan meningkat dua kali lipat di daerah Asia-Pasifik pada tahun 2040 dan diperkirakan 5.3 % pertumbuhan lalu lintas penumpang per tahun*.
Terence berperan penting dalam perkembangan kemampuan di bidang aviasi yang dimiliki oleh Clyde & Co ditengah-tengah meningkatnya permintaan klien dan terjadinya perubahan dan pertumbuhan pasar yang signifikan setelah masa pandemi.
Kevin Sutherland, Partner, Ketua Global Aviation Practice Group, di San Francisco, berkomentar: "Pasar penerbangan dan kedirgantaraan akan terus tumbuh secara global, khususnya di kawasan Asia-Pasifik. Terence adalah tambahan penting bagi tim kami, yang akan semakin meningkatkan keahlian kami dalam bidang aviasi dan penawaran kami yang terintegrasi secara global."
Berbagai bahasa dan kemampuan hukum setempat; satu praktik global
Terence termasuk dalam jaringan konsultan hukum di bidang aviasi Clyde & Co, yang beroperasi melalui satu practice group global, dan sebagai ahli tim Global Aviation Executive di Clyde & Co. Terence direkomendasikan oleh direktori hukum, termasuk Chambers and Partners, The Legal 500, Euromoney Experts Guides, Doyles Guide, dan Singapore Business Review. Terence memiliki kualifikasi hukum di Inggris & Wales, Republik Irlandia, Singapura dan Malaysia, dan menguasai berbagai bahasa, yakni Bahasa Inggris, Bahasa Malaysia, Bahasa Indonesia, Mandarin dan Kanton. Terence juga seorang Notaris dan Commissioner for Oaths di Singapura.
Bergabungnya Terence memperkuat jasa bantuan hukum di bidang aviasi secara regional di Clyde & Co, termasuk pelayanan hukum yang beragam di industri tersebut kepada klien yang berada di dalam dan di luar negeri, dan dapat memanfaatkan klien-klien dengan kualifikasi hukum Terence yang beragam serta kemitraan Clyde & Co dengan firma hukum Clasis di Singapura dan Westlink di China.
Terence Liew berkomentar: "Saya senang dapat bisa bergabung dengan tim global besar yang berdedikasi, pada saat kedua sektor industri, yakni sektor aviasi serta sektor konsultan hukum mengalami perubahan drastis. Saya melihat peluang yang besar pada saat ini untuk membantu dan membimbing klien-klien melalui perkembangan-perkembangan yang terjadi."
Simon McConnell, Partner, Ketua Dewan APAC di Hong Kong, menambahkan: "Asia-Pasifik adalah kawasan penting bagi industri penerbangan dan praktik firma ini, dan tujuan kami adalah untuk menjadi leading player dalam bidang aviasi – sesuai dengan strategi sektor global kami yakni bidang aviasi menjadi pilar utama kepada firma."
*Data Proyeksi Pasar Global Airbus
End