Claims inflation: Employers' & Public Liability
Podcast 09 June 2023 09 June 2023

UK & Europe

Casualty claims
Damages in Employers' and Public Liability (EL/PL) claims are on an upward spiral, pushing up costs as a consequence.
Rising inflation means that the Judicial College guidelines for lower value general damages claims for pain, suffering and loss of amenity are quickly out of date and claimant solicitors are looking for higher damages.
We are starting to see the impact of inflation through settlements reported in the Ministry of Justice (MoJ) claims portal for claims under £25,000. After a period of continuity, from autumn 2022 there has been a relatively sharp increase in the average value of general damages paid, as can be seen in the graph below.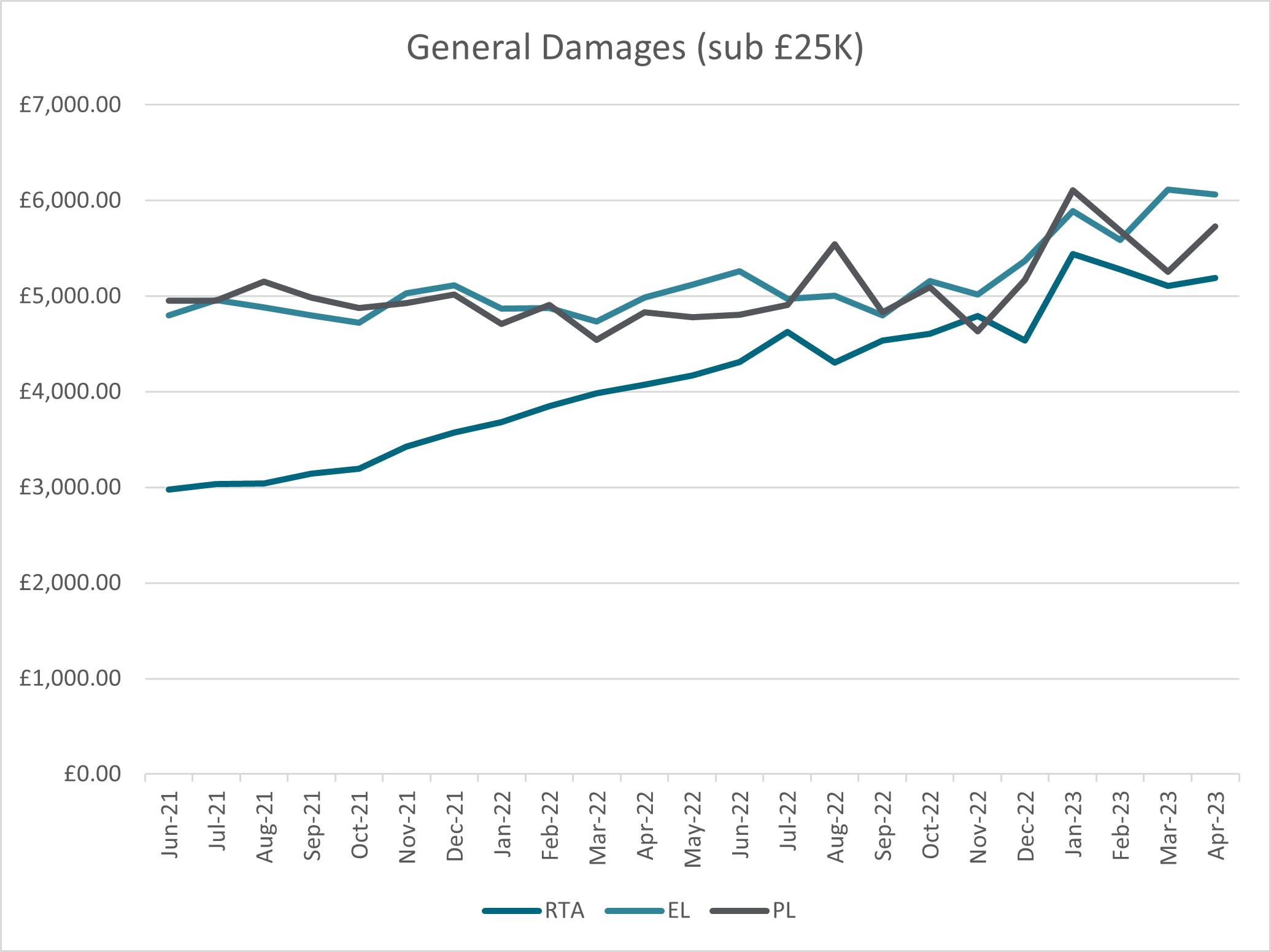 Claimants are being proactive about getting GP reports at an earlier stage, which then pick up more symptoms that require investigation, incurring more fees and increasing the value of the claim.

Special damages claims are also subject to significant inflationary pressure, as care costs escalate post-Brexit and as the rising cost-of-living pushes up salaries. We're seeing more references to chronic pain, which are expensive to investigate and treat. Loss of earning claims are growing in value as wages rise. The backlog created by Covid-19 means that experts in certain fields can have waiting lists that are 12-18 months long. Facing costs pressures themselves, experts are increasing their fees significantly, with high hourly rates charged in fields where the pool of experts is more limited. Some are offering "premium services" at higher rates to provide earlier appointments, where long waiting lists can be avoided.

Sitting behind all this is the frequent impetus from claimants' solicitors (who are being squeezed by the impact of the Official Injury Claim (OIC) portal in volume motor) to maximise what their clients are seeking by pushing different aspects of claims or driving up the damages sought. In the current climate, some claimants may also be more inclined to try their luck by raising weak or spurious claims or exaggerating them, and some of our clients are seeing numbers of claims rise.

For businesses and their insurers, it all adds up - substantially.
End