Insurers champion transformative power of sport in aiding rehabilitation
Press Releases 26 October 2023 26 October 2023

Casualty claims
A number of the UK's leading insurance companies have supported a unique initiative designed to raise awareness of the importance of sport and exercise in the rehabilitation of claimants with life-changing injuries.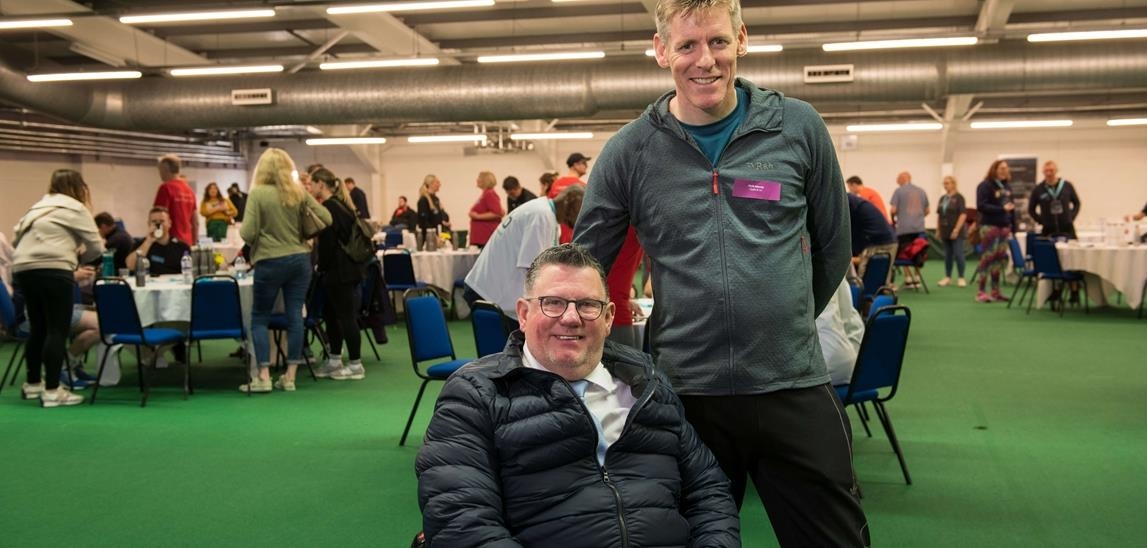 The 'Stoke Mandeville Experience Day' was developed by experts from Clyde & Co's spinal injury subject matter group in partnership with WheelPower, the British national charity for wheelchair sport, which is dedicated to providing opportunities for disabled people to enjoy sport and live healthy and active lives.

The event, which took place on 19 October at Stoke Mandeville Stadium in Buckinghamshire, brought together more than 70 insurance and legal professionals to hear first-hand from former and current Paralympians about the transformative power of sport. Among those attending were Allianz, AXA, Aviva, Direct Line Group, MIB, QBE, Pen Underwriting and RSA.

Speakers included Martin McElhatton OBE, Paralympian and Chief Executive of WheelPower, who competed in wheelchair basketball in the 1984 Paralympic Games and Louise Sugden, Paralympian Powerlifter, who won the bronze medal in Tokyo 2020 and has set her sights on competing in Paris 2024.

During the day, WheelPower also invited teams to compete in sports including wheelchair basketball, badminton, sitting volleyball, boccia, archery and table tennis. As well as seeking to improve awareness of the physical and psychological benefits of playing sport, the day helped raise more than £20,000 to support the work of WheelPower.

Speaking after the event, WheelPower Chief Executive, Martin McElhatton said: "We were delighted to deliver the Clyde & Co WheelPower Experience at Stoke Mandeville Stadium recently. It is fantastic to see how positive Clyde & Co and their partners are about supporting people with spinal cord injuries and other life-changing injuries.

"Events like this help to support WheelPower's work providing sport and physical activity as part of rehabilitation. As someone who has personally benefited from the incredible physical, mental and social benefits through playing sport for over 30 years it is vital that we continue to support people to be active and live a full life after spinal injury.

Many of those attending specialise in handling claims where individuals have experienced severe or life-changing injuries.

Gary Jackson, Head of Technical Claims - Motor & Casualty at Aviva, said "The Stoke Mandeville event was a truly motivational and inspirational day, supporting the work of such a fantastic charity as WheelPower. It was so uplifting to see the positive impact that sport can have on those with disabilities and, in this instance, wheelchair users.

"It was particularly poignant given the line of work of those attending, and further reminded the insurance community that there is a seriously injured person at the other end of the accident."

Adam Law, commercial handler – property, for Pen Underwriting said, "By organising a wheelchair sports day, awareness about disability rights, accessibility, and the importance of inclusive sports is raised. It helps break down stereotypes and misconceptions surrounding disabilities, promoting a more inclusive and accepting society. It also serves as a platform for advocacy, highlighting the need for accessible facilities, equal opportunities, and support for individuals with disabilities."

The venue for the day was especially significant as Stoke Mandeville Stadium is known globally as the birthplace of the Paralympic movement and will be the lighting point for all future Paralympic Games torches from Paris 2024.

Mike Dobson, Clyde & Co Partner added: "We were delighted that so many insurers and legal professionals were able to join us for what was an educational and energetic event. It was great to see so many attendees unleash their competitive sides, while simultaneously raising vital funds for WheelPower to continue to empower disabled people to enjoy an active lifestyle through accessible sports."

Clyde & Co has more than 300 lawyers specialising in catastrophic injury claims, with the firm's Casualty practice working with 95% of the general insurance market. The firm plans to repeat the initiative, with work already underway for next year's event, to coincide with the Paris 2024 Paralympic Games.
The event was kindly sponsored by Bush & Co, Tessa Gough Associates, 12 King's Bench Walk, 39 Essex Chambers, Farrar's Building, Deans' Court, Cobden House and Crown Office Chambers.
End