Clyde & Co's Casualty Paralegal Academy attracts record number of applicants
Communiqués de presse 21 août 2023 21 août 2023
A new, alternative route to legal qualification, developed by Clyde & Co to break down barriers to a career in law, has been hailed a success after attracting three times as many applications as anticipated – with almost two thirds coming from ethnic minority backgrounds.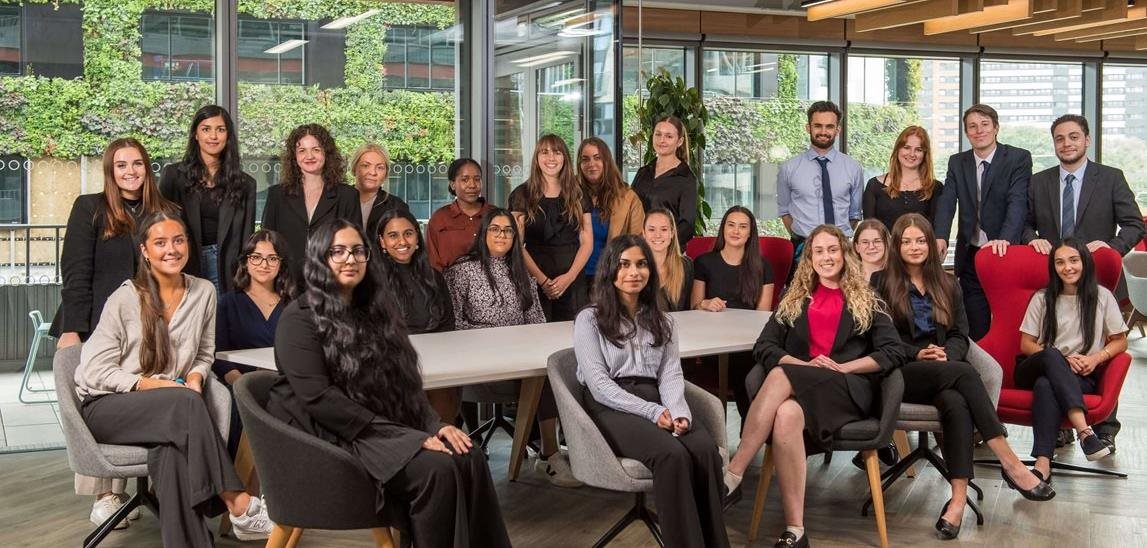 Almost 1,000 external applications were received to join the 'Paralegal Academy', a talent development programme within the firm's market-leading UK casualty practice, when the first round of recruitment opened in March this year. The figure surpassed a target to attract 300 applications for what was the first initiative of its kind within the legal industry, highlighting how the academy appealed to talent previously underserved within the market.

The Paralegal Academy differs from the traditional training contract route in that it includes a range of initiatives and programmes designed to provide individuals with the technical and core skills needed to become a confident paralegal. This includes an intensive seven-day induction, on the job training, experience working alongside the industry's leading casualty experts and a clear career development framework.

After 12 months in the Paralegal Academy, top performing candidates can apply for the Solicitors Qualifying Examination (SQE) becoming a solicitor in as little as a year, subject to their current qualifications. Of the firm's existing 230-strong paralegal community within casualty, ten have already successfully applied to start the SQE this autumn.
Breaking down barriers
The Paralegal Academy has been specifically designed to break down barriers to a successful career in law. The scheme is open to anyone with a UK Bachelors degree at 2:2 or above in any subject, or an equivalent qualification. No previous legal experience is required.

In June, the firm welcomed its first cohort with the new recruits reflecting the diversity of those applying. Of the 25 successful applicants:
88% were women
45% came from an ethnic minority background
45% studied at a non-Russell Group university, with the same percentage being state-school educated
28% joined from outside the UK coming from countries as diverse as Bahrain, Greece, India and South Africa
After completing the induction programme, which covered the fundamentals of handling claims such as liability, quantum and time recording plus skills such as communication, negotiation and interviewing, the group officially entered the Paralegal Academy. Thirteen of the 25 are now working in full-time fee earning roles in Manchester – the firm's second largest office globally – with the remaining dozen working across Birmingham, Bristol, Edinburgh, Glasgow, Liverpool, London, Newcastle and Southampton.


Speaking about what attracted her to the programme, and how she found the induction schedule, Deena Husain said, "The Paralegal Academy sparked my interest as it provides legal professionals with the opportunity to build a solid foundation of legal skills and opens the door to new routes of qualification. The induction itself was very interactive and allowed us to get a flavour of what it is like to work for and be a part of a growing global firm."
A progressive people-driven culture
Cameron Moore added, "The training provided at the Paralegal Academy was excellent. Not only did it introduce me to some core knowledge and skills that will enable me to thrive in my exciting new role, but it also put the firm's progressive, people-driven culture in the spotlight."

Richard Stewart, Clyde & Co's chief operating officer for casualty, said: "While we knew our Paralegal Academy would be attractive to people looking for those first steps in a legal career, we hadn't anticipated quite how high demand for places would be.

"This is a genuinely new route to a legal qualification and goes a long way towards breaking down some of the barriers that have deterred some groups from entering the profession. Many of those in the group completed their A-levels in the early part of the pandemic and went on to start university during the lockdowns, so their success in securing a place is all credit to their tenacity and resilience."

The firm's market-leading casualty practice expects to take on up to 100 graduates each year, with recruitment now open for the second cohort to join Clyde & Co's Paralegal Academy.

Further details can be found here. Applications close 24 August 2023.
Fin